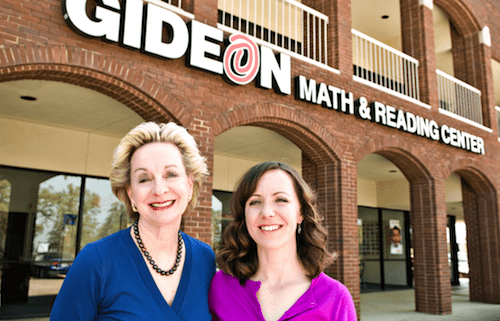 Gideon Math & Reading Center – A Success Story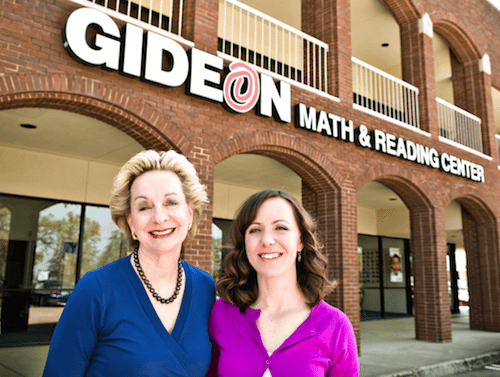 If you had told Stephanie Coppedge her family business, Gideon Math & Reading Center, would not only survive the 2020 pandemic but thrive, she probably would have shed a few tears of amazement. 2020 practically closed the brand down, but in 2022 they've helped more kids than ever before. Gideon is the definition of a comeback story. While many factors and setbacks could have, and truthfully should have, taken them down, they came back stronger. We are thrilled to have the opportunity to share their success story with you!
Stephanie, President of Gideon, and her family decided to implement the Recruitment Operating System (ROS®) in March 2020 because they were ready to make their business bigger and grow their brand. Plus, they wanted to bring in a third party, so there were no family fights! The team committed to doing whatever it took to follow the ROS® system. They thought, "Why try something new when we can be handed the guidelines on how to do it correctly?" Being told how to execute things helped nurture their relationship since each family member had a different approach they wanted to take.
In March 2020, Gideon had 12 franchises total. They completed their Brand Launch Event at our headquarters in Temple, Texas. They started quickly learning the tools, processes, and tasks they needed to complete to become a successful franchise-run business. Implementing the Recruitment Operating System® (ROS®) is like conducting an MBA course on franchising," Stephanie said. With this outlook, they left our Temple office excited to get started and make a more significant impact on the world. It finally felt like it was all going to happen for them. But we know how March 2020 turned out. A few days after returning from Temple, the world completely shut down. But let's take it back for a moment.
Stephanie's parents opened their first education center in 1994; however, they didn't start developing Gideon until 2002. The Gideon Math & Reading program all began as a vision of one family to establish a quality and, most importantly, affordable math and reading program that would benefit children.
After creating a curriculum for their centers, others started requesting to buy it and start their own centers. They felt they were on to something and their growth and success came quickly! From 2003 through 2010, they acted as a publisher selling their curriculum exclusively to a group of 25 licensed center owners. They were printing booklets and beating out their competitors. Yet, within ten years of licensing and operating in this manner, they realized that while it may have been the easy way to grow, they wanted to take their business and franchising more seriously. This decision was perhaps the most significant learning curve they encountered. While licensing was easy and for everyone, franchising was complicated.
In 2011, they switched to a franchise model for all the new centers, which allowed them to expand even more. That's where we, CGI Franchise, came in!
Implementing the Recruitment Operating System® and working with the CGI Franchise team meant they were choosing to put consistency at the forefront of their business decisions. Their goal was for someone to be able to walk into a Gideon Math & Reading Center in Texas and have a similar experience as if they had walked into one of their Arkansas or Florida locations.
Progress is in the data for Gideon. So many students have been helped, proven by their 4.9/5 scores on Yelp and Google. Stephanie follows this metric because it focuses on the impact on kids instead of sales. As it turns out, Stephanie sees a direct correlation between the reviews and franchise recruitment increases. Stephanie called Gideon the Noah's Ark of Curriculum. It felt like this project took years to build, but it's finally finished, and she's ready for Gideon to hit the open waters and sail freely. In her eyes, the curriculum has never been better, and the workbooks are helping so many.
Gideon is an emerging franchisee. Before 2020, the team typically sold 1-2 units a year. Gideon has already signed on four new franchises in the first six months of this year. 2022 has been Gideon's biggest year, and that's precisely why we're excited to celebrate them and highlight them as one of our many success stories. What made things shift? Stephanie has expanded her franchise recruitment team to include her brother Boston and a 15+ year employee Allison. Boston fills the recruiter role, and Allison fills the coordinator role, keeping everything organized and pushing forward.
The team also reviewed an in-depth mystery shop of the candidate's experience and made adjustments specific to their brand while still following the 8-step process of ROS®. Boston and Stephanie have been resilient in exploring ways to generate leads as an emerging brand and taking the approach that every conversation counts. The dedication, focus on the basics, and transparent discovery process has pulled progress forward.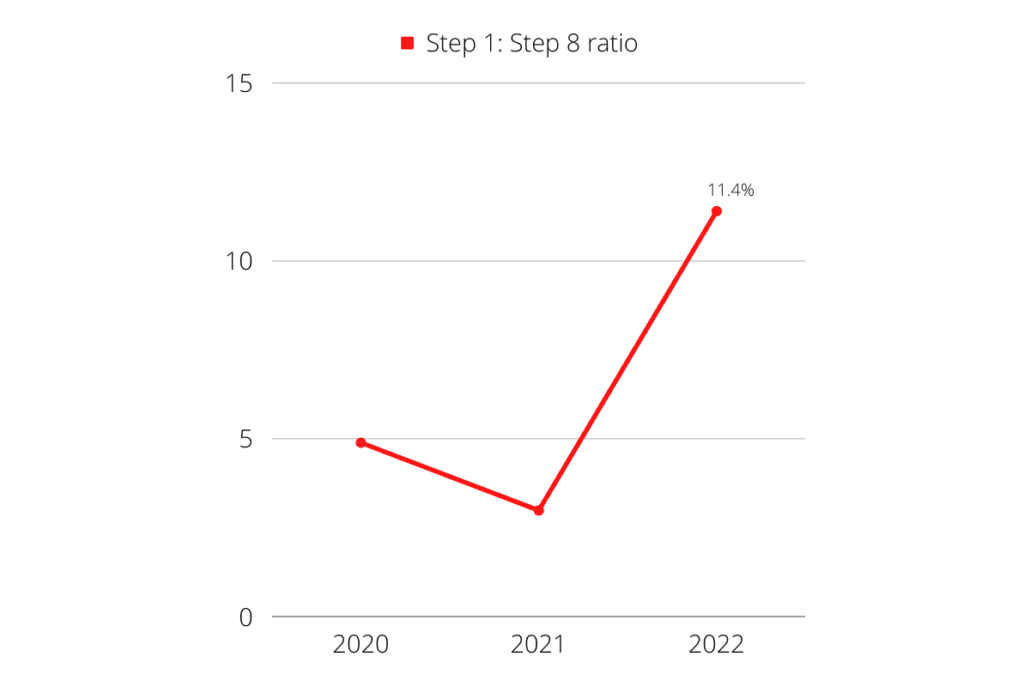 If you look at the metrics, in 2020, Gideon had a Step 1: Step 8 ratio of 4.9%, which then fell due to Covid activity. Fast forward to 2022, and year-to-date performance is 11.4%. That means he has signed a new franchisee for every 9 Step 1 calls Boston does. The franchise industry averages about 50 Step 1s per signing.
"It's not even common for us to see emerging brands dedicated to tracking data as well as the Gideon team does. Often emerging brands get off course. Stephanie has made sure her team doesn't," Kayla Dornon, Director of the ROS Academy™ and Business Intelligence, said. The ROS Support team operates with the belief that it's critical to know precisely where you are in recruitment. Data is a big part of ROS®. It helps us help our brand partners.
Stephanie has been diligent about our monthly Executive Recruitment Reviews, where we drill down and look at where we might have gaps or breakdowns in our pipeline. We analyze how many candidates are doing Step 1s, completing applications, attending Discovery Day, and signing. The team then knows exactly where to go, focus and dial things in. One area Stephanie's team has grown in 2022 is Step 1: Step 3 (which is a completed application or candidate questionnaire in ROS®).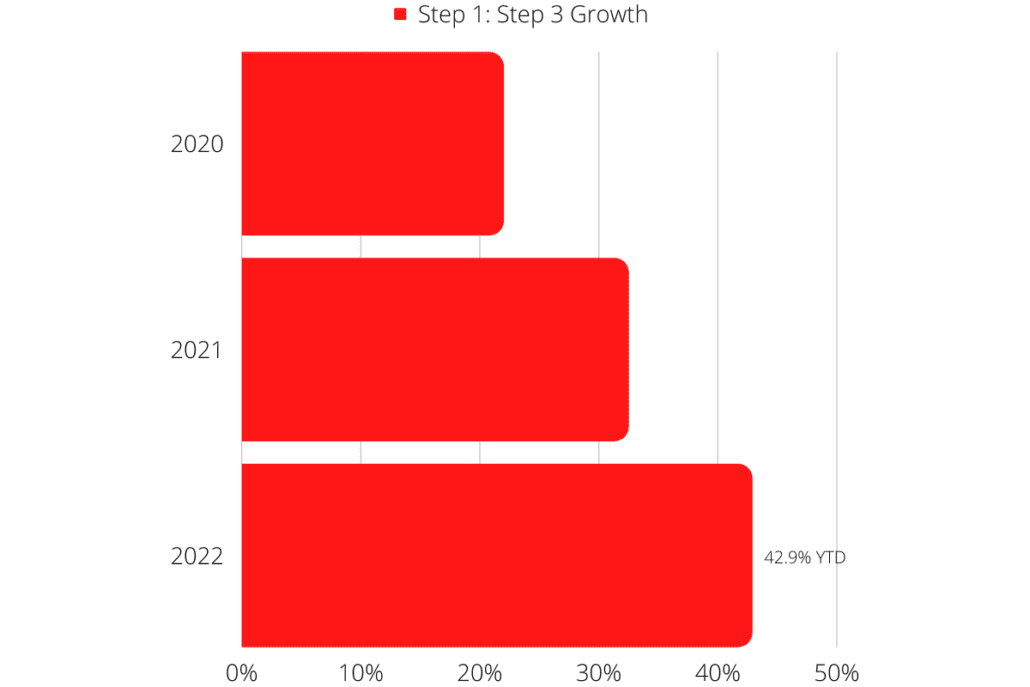 Fast forward to the present day, and tutoring centers have never been more in demand. Gideon Centers across the United States are receiving daily foot traffic. Layer on the fact the team is effectively helping people explore the brand and enter small business ownership. We sure see Gideon's future being bright.
If you'd like to learn more about the Recruitment Operating System®, we'd love to share! Our mission is to help recruitment teams and franchisors win at recruitment. Will you be next?
https://cgifranchise.com/wp-content/uploads/Coppedge-1-1.png
377
500
Kaylie Ricks
https://cgifranchise.com/wp-content/uploads/ROS-Logo-with-Tagline.svg
Kaylie Ricks
2022-09-01 15:44:32
2022-09-01 15:44:33
Gideon Math & Reading Center – A Success Story